Gene and I decided we would get away for Valentine's weekend this year, which is a little hard to do when you're on an island the size of Okinawa (something like 60 miles from north to south and 17 miles from east to west). We thought this would be the perfect time to head down to the capital city of Naha and stay a few nights since Gene had a 4-day weekend! We drove down Sunday and our first stop of the weekend was at Fukushu En Park- a Chinese Garden in the middle of the city. It is one of the things on our "101 Things in 1,001 Okinawa Days" bucket list and I'm glad we checked it off early, as I know we'll return... in fact: we're going back this weekend to cross another thing off our list: a photo shoot on the island!
I took something like 130 pictures during about two hours in the park. It's not a big park- I'd say smaller than the typical botanical garden back in the states, but it has beautiful architecture and a gorgeous design! The only downside is: we only got one good picture of both of us thanks to a random woman asking us if we'd like her to take our picture!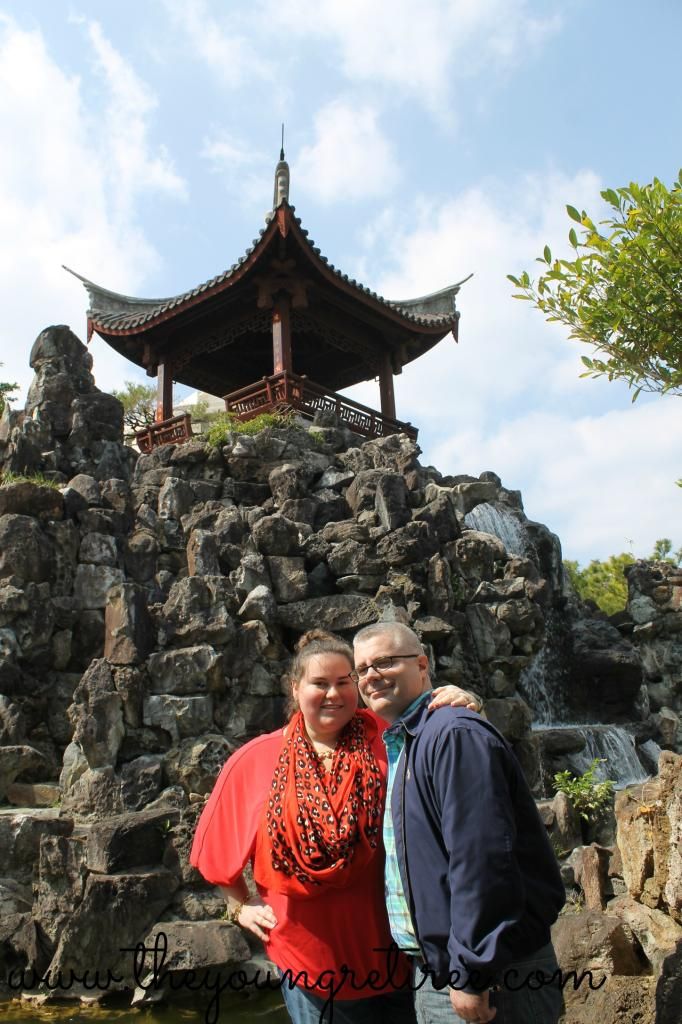 Aside from this one, we have three other camera shots of the two of us. I will present them to you now, you know, because not all bloggers have gorgeous pictures all the time.
This first one I actually really love. We were in a prime spot to get a picture of us and a waterfall that is in the park. There was an older Japanese couple taking pictures of each other and I tried to communicate with them an offer to take a picture of them both. I did, and the man offered to take one for us. I said no, it was ok, but he asked again and I obliged. It is really rude to refuse gifts in Japan and I figured this might be along the same lines? So I handed him my camera and tried to show him where to look and where to click to take the shot... completely forgetting I was fully zoomed in.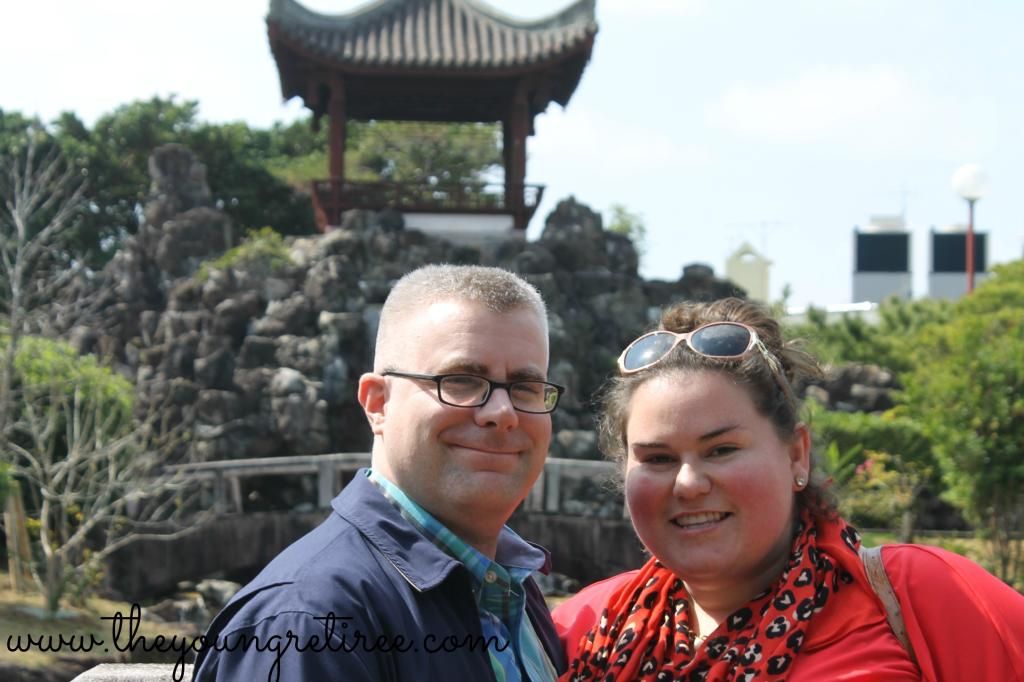 I knew he was confused, but he took the shot as best he could and I kind of love everything about it- both our faces are great (Gene is a squinter and it's so hard to get a natural smile out of him!), and obviously the story behind it is fabulous! I just wish it wasn't so close, haha.
Next up we have a shot where I set the camera on the ledge in a gazebo to take a self-timed picture of us. Fail. The camera focused on the handle of my purse and completely blurred out everything else in the picture.
While in this same Gazebo, not realizing how blurry this picture turned out, we took a selfie. The selfie came out great, but it also came out with just our faces and pretty much nothing else!
Sure, we took shots of each other, but as you can tell: we desperately need pictures taken of BOTH of us! I'm so excited for this weekend- we have our outfits FINALLY picked out, I got my nails done, and am having my hair done to make it look not flat and styled not in a ponytail, ha!
I'm sure our photographer will give me a few shots to share with you all here on the blog and eventually I suppose I'll get around to sharing Fukushu En Park- the flowers, the architecture, and all the fun little details from our trip!
How often do you get family pictures done?
Where was one of your favorite shoots?