Gene and I decided to take a little adventure for Thanksgiving weekend, and get away from the tiny Military community in Okinawa! In the event the longest post title in the world didn't give it away, we crossed a few things off of our 101 in 1001 list while we were there. In fact, the entire trip itself crossed a big one off the list!
The view of Ishigaki Island from Taketomi Island
I never thought we would be traveling so soon into our stay on Okinawa! It all came about when we were anticipating a little Thanksgiving sadness. Would it really be "the same" if we were living in a foreign country, fighting for a way too big turkey in a commissary full of people hoping to make their Thanksgiving dreams come true? I didn't want that for my Thanksgiving and we felt it would be easier to ignore the entire event. We googled "cheap airfare from Okinawa to Ishigaki" and found tickets for about $85 a piece, round trip! Then I went to Booking and looked for hotels on Ishigaki. We found one reasonably priced at just under $300 for four nights! We booked them both ourselves and the rest just kind of fell into place! (Except for Gene almost not making it home the day before from a business trip... but it all worked out!)
We flew out of Naha Airport to the new Ishigaki airport via ANA. It's the airline we actually transferred to in Japan when we were moving to Okinawa. It was a quick flight, and before we knew it vacation was upon us!
We had absolutely ZERO plans for our time on the island. Gene just got back from two weeks off island and I kind of thought that if nothing else, we would hang out in the hotel and enjoy just hanging out with one another! Speaking of the hotel- I considered that a part of the bucket list item of planning an off island trip by ourselves! We stayed at Hotel Patina. It was about a 25 minute ride or so from the airport. We just took a cab to get there and walked around during our stay since we were located in Ishigaki City, close to the action, restaurants, and the ferry terminal!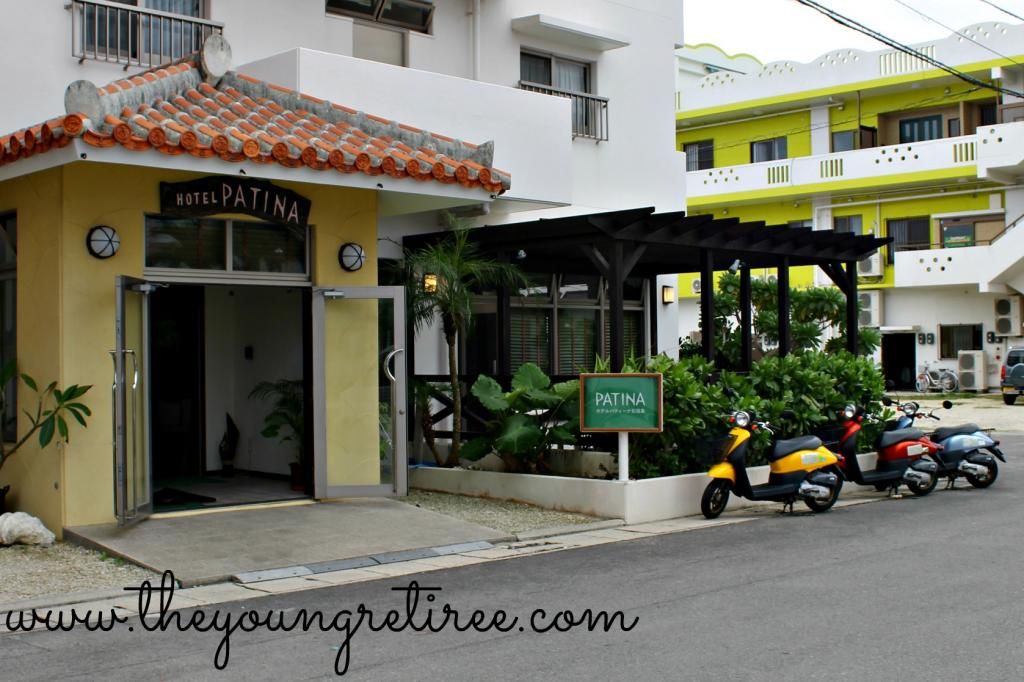 Since living in Okinawa, I had been to lunch with girlfriends where we sat on the floor to eat. It is "E Squared 101 in 1001" though, and so we were pleasantly surprised when we got to cross that off our list together! During our second visit to Garlic Island Busse, we entered only to discover that the one traditional (I guess) European style table was occupied. The hostess/waitress/owner hesitantly offered us to sit at our choice of traditional Japanese floor tables. We gladly accepted the opportunity to sit for another delicious meal! It's not the most comfortable thing I've ever done in my life, and I will gladly take a table with chairs if the opportunity presents itself, but it is a fun experience.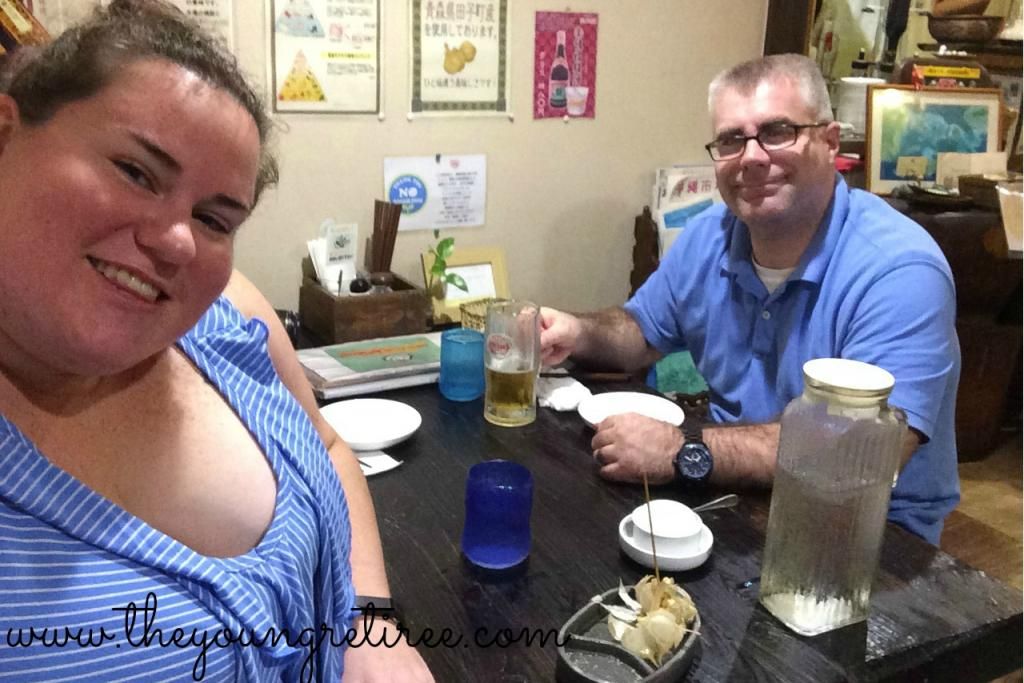 This is us on the floor. I know you can't really tell, but trust me.
We kind of tooled around Ishigaki before making our way to the ferry terminal to check things out. One of our bucket list items was to visit Taketomi Island- a small Ryukyu island you can only get to via ferry from one of the larger islands around it. The island is home to something like 350 people and still resembles a traditional Ryukyu village. We were able to get round trip tickets and tickets for a water buffalo cart ride while on the island for something like 2200 JPY (so, about $22, USD). We decided now was as good a trip as ever to take the ride over!
It was only about a 15 minute ferry ride on a very fast moving boat! Once we got to Taketomi, there was a shuttle ready to pick us up and take us to the center of the island where the village was. We didn't have to wait too long to take a cart ride. Afterwards we explored the island a little on foot, grabbed a quick bite to eat, and did a glass bottom boat coral exploring ride before heading back in a super fancy ferry!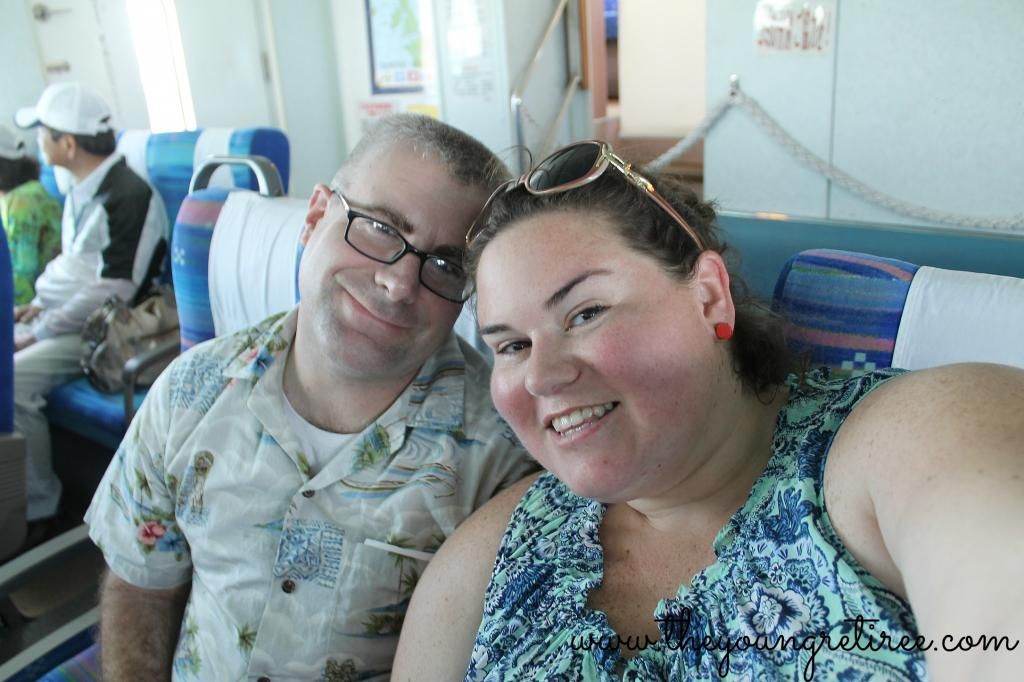 Selfie on the super fancy ferry! Like, fanciest travel method I've ever been on!
I can't wait to share about our trip in more detail and all of the fun things we had the opportunity to do! It was my first foreign vacation, ever! I never went on Spring Break to Mexico or The Caribbean. I never studied abroad in Europe. I never in a million years dreamed I'd be vacationing in Asia! Ishigaki will always hold a special place in my heart as a result of it being my first international getaway. It will be more special as a memory knowing I planned it all on my own and we crossed some special stuff off our 101 in 1001 while we were there!