Yep, you read that right. Really, it's about the saga of the swimsuit. I was so stoked when the package came the other day and it was my swimsuits. If you recall, I got two: I'm not so overly confident that I'm going to tell you the whale of a size I wear so we'll use A, B, C and D. For reference: just like boobies- A is the smallest (except they'll go like 2, 4, 6).
[I explained it the other day, but I'll recap: about two years ago I bought a C bathing suit. It's gotten too big and an A suit I bought last year is fitting better and better everyday. So I ordered an A and a B. Cut to the package coming in the mail.]
With high hopes I went into my bedroom, disrobed and went to try on the new A. It was, what you could imagine to be, like squeezing a pot belly pig into my Pomeranian's dress. Thank God I was not in a changing room in public and my husband wasn't home to walk in on me at any minute. It was horrific.
I peeled the A off and went to try on the B. Same thing. I was livid and knew I would not get the right size in time for our Homecoming Honeymoon if I sent them back and waited for the new ones. (Yep, we're that close... and shipping takes forever with Lane Bryant.) I threw the suits and receipt in a tote and headed to the store.
I explained the pot belly Pomeranian (PBP) situation and said I guess I'll order a C and a D. Who knew bathing suits were the new wedding dress and you needed them two sizes too big? To my great pleasure, they had the suit (wrong color) in a C for me to try on. I stood in the back of the store, walking around in the swimsuit with my panties sticking out the bottom, waiting for the sales clerk to give me a little advice. It was too big. WHAT? Yep... my problem forever has been that I'm always between sizes. The sales woman asked me if I wanted to try on the B again. Reluctantly, I headed back into the changing room with my suit. I tried it on and it was ok... I guess. I mean, I got it on... it was just so shocking to the senses I guess. (This is the first suit in YEARS that wasn't a "dress" or skirted suit to hide the ham hocks I call my thighs!)
Most likely the raciest picture you'll ever see of my on my blog... I told you... Booby McGee!
I stood there in the back of the very open store while two sales ladies offered advice. One told me to fix my boobs so they were in the front. "Um, what? They are up front!" So there, in the middle of the store, I stood feeling myself up, smooshing my boobs towards the center (like for cleavage) and the suit looked a million times better- I'm not even joking.
I walked out with the B and returned the A, awaiting it's B sized replacement. (Remember, I liked the suit so much I wanted it in both colors.) When I went to sit out and get some sun, I could not help but notice how amazing the upper portion of the suit is... it makes up for the PBP.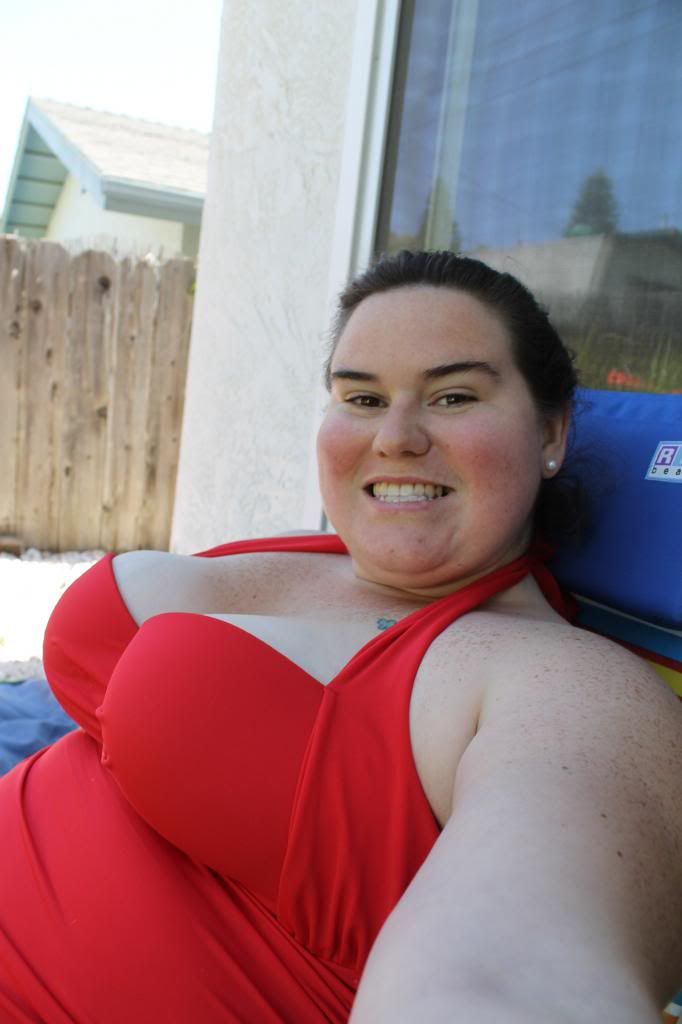 A little tight, but working OK for the back yard!
A special thanks to my twitter friends who got me through the PBP situation! Swimsuit shopping is cruel and unusual punishment. I haven't had to go through it this negatively for about 3 years though- so I guess my turn was up. Oh, and on the bright side: I got this $100 bathing suit originally for buy one get one half off and then 30% off the whole order or something crazy... it worked out to about $58. When I returned the A for a new B, it was on an even better sale, and they let me keep they difference :) Scored it for $32! Oh yes... I may have suffered my private embarrassments, but I scored a fabulous deal as a result.
Cuddles and Kisses,
The Mrs.