**Congratulations to Poekitten for winning!**
Every once in a while, a cause comes along that is so worthy of recognition you can't help but share it with everyone you know. Allow me to first share how and why this certain cause is so close to my heart.
Some of you may know I was diagnosed with PCOS a month after our wedding. Gene was deployed and I cried for a week. We knew that I may never be able to have children, but this seemed a definite death sentence and my husband wasn't there to help me get back on my feet after hearing the news. I don't like to dwell on it, and have come to the philosophy of "it is what it is". I have given it to God (for the most part) and we have discussed our options in great depth.
One of the things we discussed was adoption. Even before learning of the diagnosis I would dream of adopting a child approaching the tweens and teens. The children left in the system that nobody wanted, because every one wanted a baby.
We went back and forth praying about adoption in the future and if we wanted to start saving for it in the event we chose that path. We ultimately decided against it. For several reasons that are neither here nor there.
Then I came across a story on Jess's blog
Jessica Lynn Writes
. It was about her brother and sister-in-law and their journey to adopt! You can read here story
here
!
They are selling Vanilla Extract in their Etsy shop
Extracts For Ethiopia
!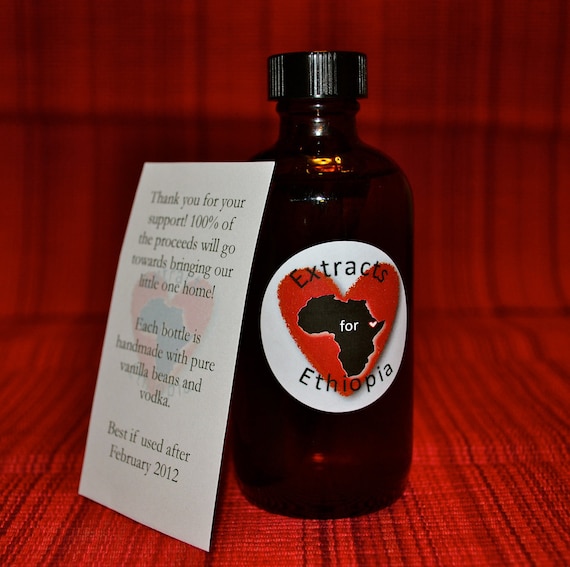 Image via Extracts for Ethiopia on Etsy
Here's the deal friends: I just bought 5 bottles. One for myself, one for a dear friend, one for the gal teaching my cake decorating class, one as a door prize at my Wives of Faith Girl's Night Out and one to have on hand for a hostess gift or in case I REALLY get into baking. The arrived packaged so nicely! They were safe and secure and bubble wrapped beyond belief. I opened the lid and the smell was intoxicating! You get a 4oz. bottle and the Vanilla Extract is 100% homemade using pure Bourbon Madagascar "Noire" Vanilla Beans and triple distilled premium Vodka. I seriously just wanted to drink it from the bottle.
YOU CAN WIN ONE BOTTLE RIGHT NOW!
One reader will win a bottle of this vanilla extract. I will purchase the bottle and have it shipped to you instead of me. It's that easy! Well... you do have to enter so here it goes:
***PLEASE LEAVE ONE COMMENT FOR EVERY ENTRY!***
1: How would you use your vanilla? I've got some baking to do and need recipes!
2: Follow @TheYoungRetiree on twitter
3: Tweet about this giveaway (include link from tweet in comment. Available once per day. Please tag @TheYoungRetiree).
4: Like
The Torres 2 Plus 1
on facebook
5: Like
The Young Retiree
on facebook
6: Share The Torres 2 Plus 1 on facebook with your friends!
7: Please, please, please: blog about this shop! You don't have to share your personal story, or if there is any way you can relate to what this couple is going through- but please, please, please- help get their story out there! (This one is worth FIVE entries - leave FIVE comments with the link to your blog!)
*FINE PRINT:
This giveaway will end on Wednesday, Feb 22nd, 2012, 8pm (PST).

You do not need to be a blogger to enter this giveaway! Just make sure I have a way to reach you if you win (twitter handle, e-mail address, or if I know you in real life and can contact you via facebook!)

This giveaway is not endorsed, requested, or even made know to the Torres'. This is a product and a cause I believe in! If there were ever a cause worthy of attention and support- bringing a child into a warm and welcoming home is one! The product is AH-MAZING and I know you will love it! Get to entering, and if you don't win I highly recommend purchasing and supporting this family! I consider it $10 so very well spent!