One of
my goals for the year
was to make this year a healthier one. That's so vague, but for me it meant changing my lifestyle, working out more, and dropping some pounds along the way.
When I tried my Paleo journey before Gene got home, I felt amazing! Not to mention, I dropped almost 30 pounds! Not to place blame, but Gene got home from 9 months of not having a choice of what to eat, and we went everywhere he had been deprived of. Nobody put food into my mouth, but I quickly fell off the Paleo bandwagon and quickly gained back all of my weight. I credit my bout with depression to this fact. So now it is time to get serious and start shedding it back off!
There have been various NSVs (non scale victories) along the way. Some of you may recall
a post in which I shared a picture
of Gene and I before he left in January, 2012. I was wearing a pink sweater and was quite possibly at my heaviest. I have that picture in a frame in our bedroom
next to a picture from the Navy Ball
in October, 2012. The change is incredible and I know I can do it again, and then some!
We are not "Paleo". I'm not even going to define what we are other than eating healthier. I have cut grains out drastically in our diets, but we still have bread every now and then. We have completely cut out soda! Well, we're on day 12 soda-free which is HUGE for us! I'm just not having it in the house anymore. I'm drinking quite a bit of water everyday thanks to a handy dandy app I found that I can set a reminder to beep if I haven't logged my water in some time.
Also: I'm training for my very first 5K!
I think I win for one of the most beautiful training grounds around!
That's right, friends: Gene and I will be running in the Run or Dye 5K in April! Time to buckle down and get training! I successfully completed day 1 of the Couch25K program making it 1.9 miles in 30 minutes, jogging every single time it told me to jog, for all 60 seconds except for the last time when I stopped a few seconds shy! I was so proud of myself! It is the most I have ever walked/jogged/run at one time... in my life! We are so looking forward to an exciting event! My goal was initially to finish in under one hour. I think if I'm hitting two miles in 30 minutes, I should re-evaluate that goal. We are thinking of doing the Color Run in May! Yep- I have a goal I am working on in fitness and making it happen!
Another one of my goals is to make it planking for one minute. Well,
I've been planking everyday
, and I set my personal best record Sunday night: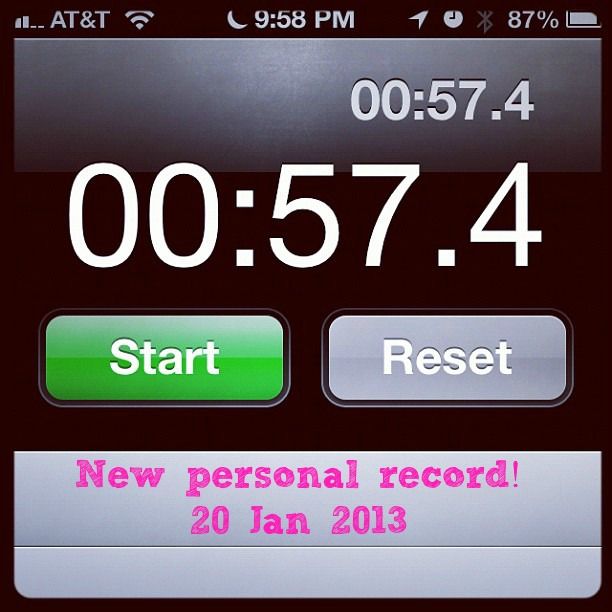 I was a little upset that I couldn't hold out those two seconds longer to get that minute, but I am so close I can feel it... literally, in my abs, and arms! I sometimes forget until I'm in bed at night, but I've gotten out of bed every night when I remembered and planked, even if I had dogs in my face! It's been a nice addition to my routine!
So, 2013 is going to definitely be healthier! I'll be sure to keep you all updated on our new 5K hobby! I'm so looking forward to my first one!